PC Hardware
As Shuttle XPC specialists, we are able to build you a custom designed system that is perfect for your personal requirements.
XPC systems are extremely small, reliable and quiet running and unlike a laptop, they use standard PC sized memory, hard drives and processors so are easily upgraded.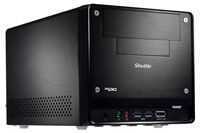 If you prefer a standard size tower system or a laptop, we can also help. With great prices on hardware and impartial advice, please contact us with your requirements.
All prices quoted for systems include delivery and installation. This also includes transferring data from your old system, setting everything up just the way you want it and connecting it your internet connection or network.
No hidden extras here!